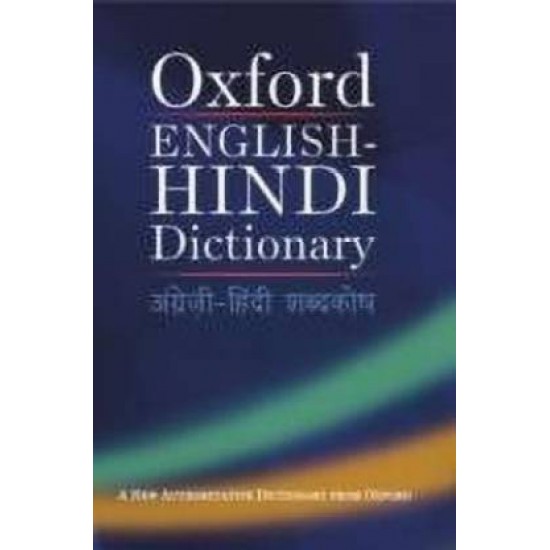 -28 % Out Of Stock
Oxford English-Hindi Dictionary by Oxford Dictionaries
This book contains the meanings for several thousands of words from English to Hindi.
Summary Of the Book
The Oxford Dictionaries are popular for their comprehensive and thorough coverage of the linguistic, pronunciation, and comprehension aspects of words.
This book contains the English to Hindi meanings of thousands of words, providing meanings and pronunciation guides for the English words. It contains example phrases and expressions to illustrate the usage of each word.
The examples help the readers understand the word in all its contextual usages. The book also contains pronunciation guides in Hindi for each word. This enables instant comprehension of the correct pronunciation of the words.
It also contains some detailed grammar coverage. It contains grammatical information on nouns, verbs, and irregular adjectives. The appendix section contains useful information on weights and measures, chemical elements etc.
The words in this dictionary are mainly words in common usage, words that are used most frequently in speech and writing, and words that are used in everyday conversations.
This book is designed for Hindi speakers who are learning the English language or are working in an English speaking environment, for students and teachers, and for reference at home to look up meanings.
Practical, easy to understand, and with many examples and grammar topics, with easy to follow pronunciation guides, this book is ideal for those seeking to understand the meanings of common and everyday words that will help them improve their understanding of the language.
About The Authors
S.K. Verma and R.N. Sahai write on language topics. They concentrate mainly on writing English-Hindi dictionaries.
Other books by them are Oxford English-English-Hindi Dictionary, and Student's English-Hindi Dictionary.
Books Information
Author Name
Oxford Dictionaries
Condition of Book
Used
Stock:

Out Of Stock

Model:

sga16802