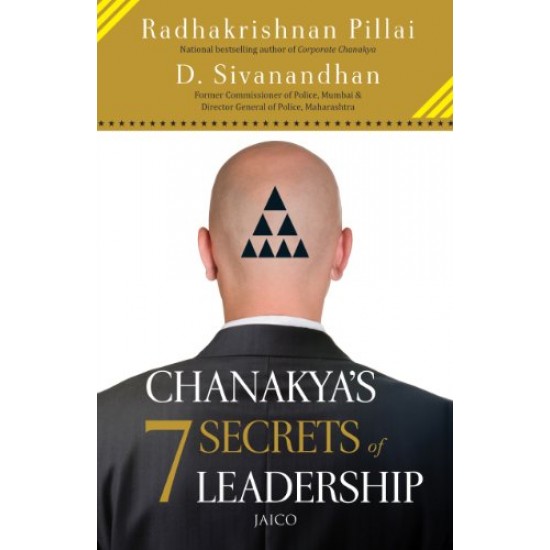 Chanakya's 7 Secrets of Leadership by Radhakrishnan Pillai
Chanakya, who lived in India in the 4th Century BC, was a leadership guru par excellence. The treasure of his teachings can be found in his book, The Arthashastra, which deals with good governance based on ideal leadership.

The concept of the ideal nation in The Arthashastra, called Saptanga, holds that there are seven pillars of a kingdom: Swami, Amatya, Janpada, Durg, Kosha, Dand, Mitra iti Prakritya. For centuries, Indian rulers have used this concept as a model of successful government.

In this path-breaking book, Chanakya's 7 Secrets of Leadership, author Radhakrishnan Pillai delves into Chanakya's Saptanga with the real-life example of D. Sivanandhan. Former Director General of Police, Maharashtra, and the archetype of an able administrator, Sivanandhan shares his guidelines for effective management, highlighting those that make him a dynamic leader.

In Chanakya's 7 Secrets of Leadership, theory meets practice, academic research meets vast experience in police supervision and an age-old formula is revealed in a modern-day success story. Together, Pillai and Sivanandhan bring Chanakya's model to life.

Anyone can use the seven secrets of leadership to run a kingdom effectively. Apply them in your life, and the magic of Chanakya's wisdom will transform you into the ideal leader.

Radhakrishnan Pillai, founder-director of the Chanakya Institute of Public leadership (CIPL), has represented India in various national and international conferences and has taught at educational institutes in Germany (Heidelberg, Cologne), UK (Oxford, Cambridge) and India (IIT, IIM and IISc). His best-selling book Corporate Chanakya is used by business schools around the globe. Pillai received the Sardar Patel International Award in 2009.

D. Sivanandhan, former Director General of Police, Maharashtra, is one of India's most highly regarded IPS officers. He has been instrumental in rebuilding the defenses of Mumbai after attacks in November 2008, and has served as member of the special task force in the National Security Council Secretariat. Currently, he serves on the board of several companies and is the Chairman of Securus First India Pvt. Ltd.

Books Information
Author Name
Radhakrishnan Pillai
Condition of Book
Used
Stock:

In Stock

Model:

sg587