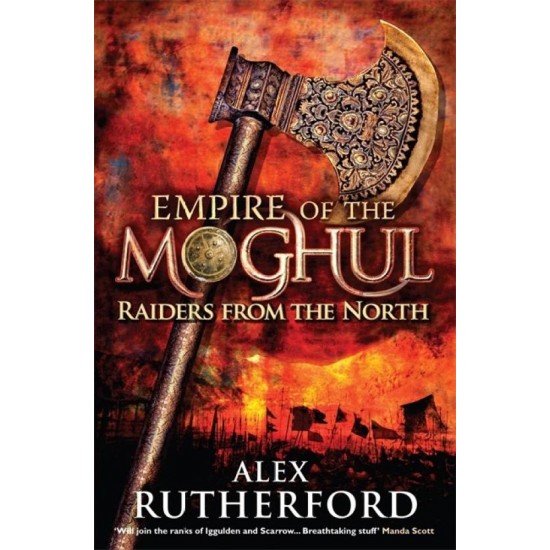 -59 % Out Of Stock
Empire of the Moghul: Raiders From the North by Alex Rutherford
Empire Of The Moghul: Raiders From The North is the first of five historical adventure fiction books written by Alex Rutherford, which chronicles the reign of the Moghul Empire in medieval India, starting with King Babur.
Summary Of The Book
Empire Of The Moghul: Raiders From The North, is the first of five books in Rutherford's Empire Of The Moghul series. It revolves around the founder of the Mughal empire, Babur and covers his life and achievements. Rutherford's novel is based on Baburnama, Babur's autobiography. The text examines his campaigns, his reign, his conquest of India, and the eventual loss of his kingdom.
Babur, was a descendant of Genghis Khan and Timur. He often dreamt of achieving the same glory as his ancestors, but he knew he had to begin by claiming his home region.
Babur, was the child of Umar Shaikh, ruler of the Ferghana region. In 1494, an unusual accident kills his father, leaving Babur as the heir to the throne, at just twelve years of age. Babur is steadfastly determined to rule as his ancestors once did, such as Tamburlaine, whose actions had an impact from Delhi to Persia, and all the way to Volga. However, many opposed Babur's claim to the throne. Many factions in the kingdom began to plot against him, taking sheer advantage of his young age and inexperience. Since Ferghana was always under threat from the Uzbeks, and Shaibani Khan, many felt that Babur was inept to rule. Nevertheless, Babur and his chief bodyguard Wazir, worked together and eliminated all those who opposed his rule, including his Grand Vizier. With the support of his mother and grandmother, who were very influential in court, Babur became the rightful King of Ferghana.
After claiming the Kingdom of Ferghana, Babur's attention turned to Samarkhand. He wanted to reconquer this city, which had once been the capital of Timur. Although Babur does capture it, the Uzbeks regain it once more. Then Babur's attention turn towards Kabul. Eventually, he conquers a large part of India, successfully establishing his dynasty, and the Moghul Empire.
Empire Of The Moghul: Raiders From The North, was published in 2010, by Headline Review.
About Alex Rutherford
Alex Rutherford is the pseudonym used by the husband and wife team, Diana and Michael Preston Some of the other books written by the authors are The Serpent's Tooth, Ruler Of The World, The Tainted Throne, andBrothers At War. The couple completed their studies at Oxford University in UK. They have a penchant for History. The Prestons also enjoy travelling, and have been to more than 140 countries, with India being a special place for them. They spent much time in India researching for their book on the history of the Taj Mahal, titled A Teardrop On The Cheek Of Time.
Books Information
Author Name
Alex Rutherford
Condition of Book
Used
Stock:

Out Of Stock

Model:

sga16726