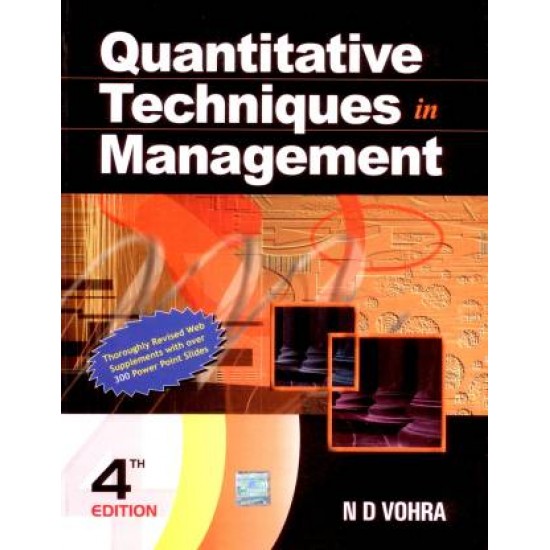 -53 %
Automotive Brakes Transparencies by CROUSE
Quantitative Techniques in Management, published by Tata McGraw-Hill Education, is a comprehensive book for both students of management as well as professionals, aiding them in critical management decisions. A sum total of nineteen chapters are discussed in the book. Decision Making and Quantitative Techniques, Linear Programming such as Formulation and Graphic Solution, Simple Method and Duality and Sensitivity Analysis, Transportation and Transshipment Problems and Assignment Problem in Specially Structured Linear Programmes, Extensions of Linear Programming, Integer Programming and Goal Programming, Sequencing, Inventory Management and Queuing Theory, Replacement Theory, PERT and CPM, Decision Theory, Markov Chains, Theory of Games, Dynamic Programming, Simulation, Investment Analysis and Break-Even Analysis and Forecasting are some of the topics discussed extensively.
About Tata McGraw-Hill Education
Tata McGraw-Hill Education is one of the most renowned publishing houses which has been massively catering quality and the most widely read books to the education market. Their books are used by Pre-K students as well as teachers and professionals. They also have online learning provision and multimedia tools for better learning methods, which adapt to mobile devices, online testing and tutoring, e-Books, subscription services and customized course web sites. Some of the books published by Tata McGraw-Hill Education are Applied Research Design for Business and Management, What would Steve Jobs Do?, Security Analysis And Portfolio Management, Red Hat Enterprise Linux 5.0 and Consumer Behaviour.
Books Information
Author Name
ND Vohra
Edition
4th
Condition of Book
Used
Stock:

In Stock

Model:

sga16808