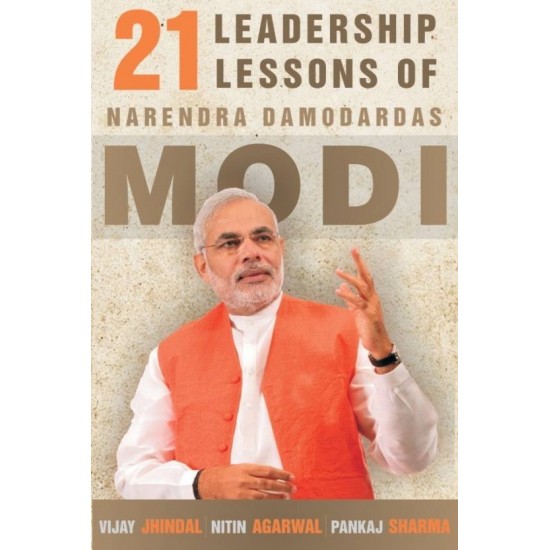 -60 % Out Of Stock
21 Leadership Lessons of Narendra Damodardas Modi (English, Paperback, Vijay Jhindal, Maheish Giri (MP), Pankaj Sharma, Nitin Agarwal, Babul Supriyo (Union Minister))
21 Leadership Lessons of Narendra Damodardas Modi, by Vijay Jhindal, Nitin Agarwal, and Pankaj Sharma, captures 21 traits of leadership that anyone can learn from Modi's style of working.
Summary of the Book
This title delves into questions such as what leadership is and who real leaders are. It differentiates between the people who do the right things and inspire others to do things perfectly. The book asserts that leadership is all about figuring out what you need to do to win as a team or an organization. The phenomenal victory of Narendra Modi in the last Indian elections has rekindled in all of us the need and significance of an able leader. The book asserts that despite the controversies, he is clearly a personality worth an analysis of what a leader should be like. He has also been compared to 21 other world-famous individuals who are part of history, renowned for their extraordinary contributions as leaders.
About the Authors
Vijay Jhindal, LLB, CA, is a multi-talented personality who served as an RSS Pracharak for several years. While he was serving the organisation in Haryana, Narendra Modi was in charge of ABVP there. He thus got a chance to observe Modi closely and has been influenced by his exceptional organisational skills ever since. Jhindal is also into investment banking, real estate, media, entertainment and agriculture.
Nitin Agarwal is an award-winning social entrepreneur who gave up on a profitable corporate career to serve in the social sector. He founded the National Association of School Professionals to bring about a fundamental shift in children's education in our country.
Pankaj Sharma is a famous social, political and corporate lecturer and commentator. He is an alumni of the renowned International Visitor Leadership Program of the Government of U.S.A. He has given lectures at several famous global universities, including Stanford. His works and ideas have been frequently featured in Wall Street Journal, New York Times, Reuters, and AFP among several global and Indian media.
Books Information
Author Name
Nitin Agarwal
Condition of Book
USed
Stock:

Out Of Stock

Model:

sg3219