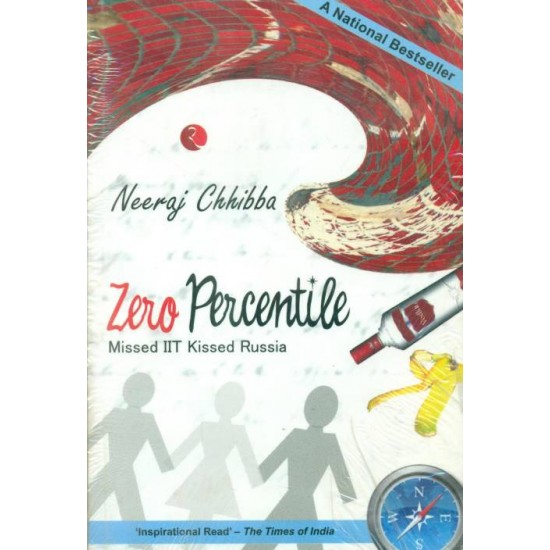 -57 % 2-3 Days
Zero Percentile : Missed IIT Kissed Russia by Neeraj Chhibba
Zero Percentile is an intoxicating novel on the life and adventures of Pankaj—seemingly not one of the children of destiny—spanning across the vastly different countries of India and Russia.
Life has always been carefree for Pankaj, a brilliant young boy who is convinced that his destiny lies in IIT. A cruel accident, however, sends him to a place he has never heard of before: Volgograd, the Russian 'City of Heroes', a pivotal player in stopping Hitler's assault on Russia during the Second World War.
Life in Volgograd is very different. Brawn is prized over brain, and Pankaj winds up in prison after a brawl with the powerful and aggressive boys who share his hostel. Determined to avenge himself, he masterminds a coup, which only succeeds in making an enemy of his dean who becomes hell-bent on destroying it. His seniors conspire to ruin him as well, and bring in the local mafia. In addition, he has to cope with the pressure on him to lose his virginity, as well as the agony of his best friend being diagnosed with HIV.
Pankaj valiantly takes up the gauntlet to fight all his adversities, and briefly emerges victorious before succumbing to his greatest adversity yet: love.
About the Author
Neeraj Chhibba was born and raised in India. He studied engineering at Volgograd, Russia, where he spent almost seven and a half years of his life. He is currently employed with a software company in India. His single claim to literary honours is a 'highly commendable' certificate he received in Class X in an English Essay Competition organized by the Royal Commonwealth Society. This is his first book.
Books Information
Author Name
Neeraj Chhibba
Condition of Book
Used
Stock:

2-3 Days

Model:

sga686