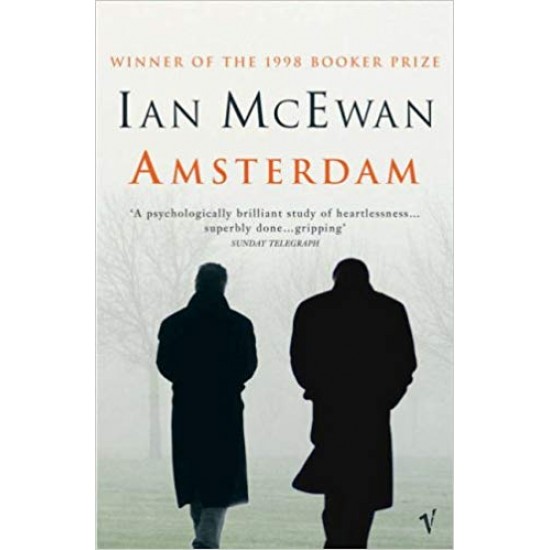 -60 % Out Of Stock
Amsterdam (Paperback, Ian McEwan)
Amsterdam is a Booker Prize winner novel. It is a witty yet wise story and one of the best ever written by Ian McEwan.
Summary Of The Book
Amsterdam New Edition is a morality story that is based on an unusual euthanasia pact between two friends. The friendship of these two protagonists – one composer and another editor – takes a disastrous turn in the book. Written by British writer Ian McEwan, the story begins with Molly Lane's funeral on a chilly February day. The two old friends – Vernon Halliday and Clive Linley –meet in a mass when they reach crematorium to pay their last respect to Molly.
The author exclaims that these two friends have been one-time lovers of Molly before they reached their current reputation. Vernon has now become an eminent newspaper editor of The Judge and Clive has become Britain's most successful modern composer. On the other hand, Molly had had other renowned lovers as well such as the Foreign Secretary Julian Garmony.
The story moves on further as the two friends make a strange pact during the following days of Molly's funeral. This pact will cause important and unexpected consequences in their lives. Their friendship will be tested, they will be compelled to take catastrophic moral decisions, and Molly's ex-lover Garmony will have to fight to save his political reputation.
Ian McEwan's Amsterdam New Edition is a short novel relating a contemporary morality story tale that is witty, profound, and yet highly enjoyable. And the title of the novel gets justified as the story gets its conclusion in this beautiful city. The dénouement of this surprises-loaded novel plays out in Amsterdam, when the two friends are bound to go there following their fates.
About Ian McEwan
Ian McEwan is a famous English screenwriter and novelist, who has been featured in the list of "The 50 greatest British writers since 1945" by The Times.
Besides Amsterdam, McEwan has written various other books including Sweet Tooth, Atonement, Solar, Conversations with Ian McEwan, Enduring Love, The Innocent, The Daydreamer, Saturday, For You, On Chesil Beach, In Between the Sheets, and many more.
Ian McEwan was born on 21st June 1948 in Aldershot, Hampshire. He got his education from Woolverstone Hall School and later did a graduation course in English literature from the University of Sussex. He also attended the University of East Anglia to do a creative writing course. His first book First Love, Last Rites got published in 1975. He has been honored with numerous awards such as the Man Booker Prize (six times), the Jerusalem Prize, the Shakespeare Prize, and CBE award. He is a fellow member of the Royal Society of Arts, the American Academy of Arts and Sciences, and the Royal Society of Literature. Also, the University College of London awarded him the degree of Doctor of Literature. He lives with his second wife Annalena McAfee.
Books Information
Author Name
Ian McEwan
Condition of Book
Used
Stock:

Out Of Stock

Model:

sg13564