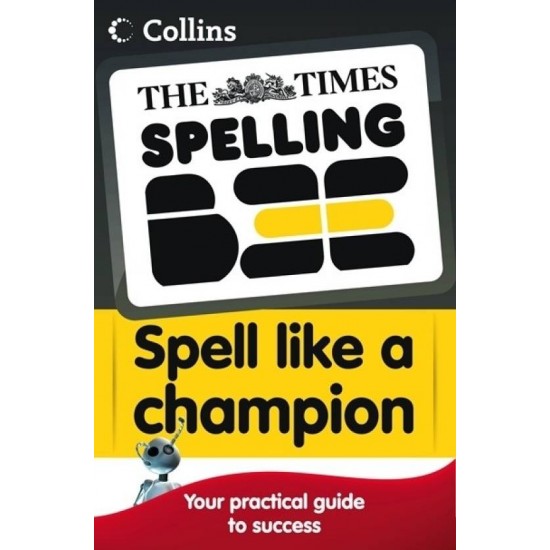 -60 % Out Of Stock
COLLINS SPELL LIKE A CHAMPION - Spell Like a Champion (English, Paperback, Harper Collins)
This book is the best companion to practice for The Times Spelling Bee. It is a comprehensive guide to spelling and the title is an invaluable reference source for students who are preparing for The Times Spelling Bee competition.
Summary of the Book
Get this guide for your child if you want them to get better with spellings or want them to enter The Times Spelling Bee competition. This gude is essential for learning spellings and includes spelling rules, strategies for better spelling, hints and tips on better spelling, and a range of word puzzles. The book helps students understand and learn the roots of English words. They will also learn how to use this knowledge and spell better. It can help give better results in the English exams and in essay competitions. You will also get all the information you need to know on how to enter The Times Spelling Bee Competition. The book is written in a clear and concise manner with several word games. It provides a fun way to improve your spelling.
About HarperCollins
HarperCollins Publishers India Ltd. is a subsidiary of HarperCollins Worldwide. It has shown phenomenal growth in the past years and publishes fiction, non-fiction and poetry by various writers like Nayantara Sehgal, Kiran Nagarkar, Meghnad Desai, Mukul Deva, and Anita Nair. They have also been successful in building a list of talented first-time writers. HarperCollins was the publisher of The White Tiger by Aravind Adiga, the winner of the Man Booker Prize 2008. The company has taken its place as a marketing leader in the publishing industry. They have won the Excellence Award at the Asian Multimedia Publishing Award 2009 and 2011.
Books Information
Author Name
Harper Collins
Condition of Book
Used
Stock:

Out Of Stock

Model:

sg1411