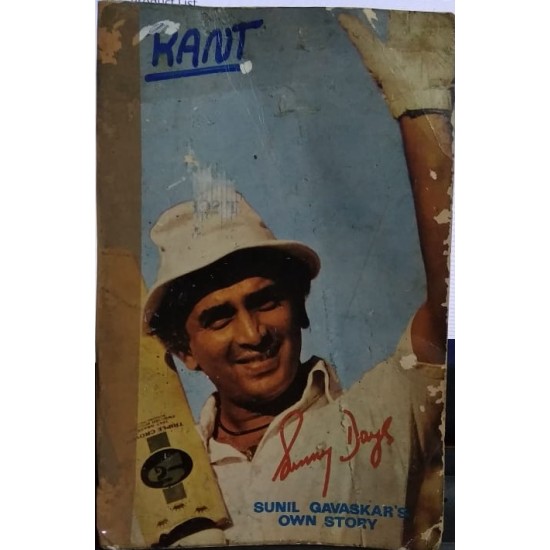 Out Of Stock
An Autobiography (English, Paperback, M. L. Jaisimha)
Sunny Days is the fascinating account of the growth of one of India's greatest batsmen; one whose astonishing feats on the cricket field have caused innumerable records to be re-written, and set close to impossible targets.
How did the story of Sunil Manohar Gavaskar begin? What was the genesis of the man who grew to be a legend in his own lifetime?
The story starts with a baby being switched after birth – luckily restored by an eagle-eyed uncle; he grows up to almost break his mother's nose with a mighty hit (a childhood habit that persists in later life); plays good cricket in school and college; inevitably graduates beyond university and trophy cricket, is occasionally booed by the crowd as his uncle happens to be a selector; and then bursts into the international cricket scene with his test debut at Port of Spain at the age of twenty-one.
The year is 1971, it is Gavaskar's year, and sunny days have finally begun for Indian cricket. By the end of the 1975-76 season Gavaskar has played 147 first class matches, amassed 11574 runs and thirty-eight hundreds. He has played twenty-four matches in eight Tests, with 2123 runs and eight hundreds. And there is still nearly a decade left before the glory-days of the Kotla and Chidambaram stadiums.
A fluently written book with Gavaskar's usual self-effacing modesty imparting a rare grace to its pages, Sunny Days is a must-read for all cricket fans.
About the Author
Sunil Manohar Gavaskar was brought up in Mumbai where he attended St. Xavier's High School and St. Xavier's College. He inherited his interest in cricket from his parents and uncle and justified their high hopes when, in 1961, at the age of twelve, he distinguished himself in inter-school tournaments. The College XI, the Irani Cup and the Ranji Trophy paved the way for selection in Test cricket. In 1971, Gavaskar made his debut in the West Indies where he scored an astounding 774 runs in 4 Tests at an average of 154.8. With 34 Test centuries to his credit, Gavaskar surpassed Donald Bradman's thirty-five-year-old record of 29 Test centuries. He has played 125 Test matches scoring 10,122 runs; 108 One-Day matches and scored 3,092 runs and holds the distinction of captaining India in 47 Tests. Gavaskar has been felicitated with the Arjuna Award in 1975, Padma Bhushan in 1980, and the Maharashtra Bhushan Award in 1999.
Gavaskar is also a TV commentator for the BBC, Channel 9 Network, ESPN Star Sports and Neo Sports. He has held several important posts including that of Chairman of ICC Cricket Committee, national Cricket Committee and the BCCI Technical Committee. He also has to his credit four books including Sunny Days (1976), Idols (1983), Runs 'n' Ruins (1984) and One Day Wonders (1985).
Books Information
Author Name
M. L. Jaisimha
Condition of Book
Used
Stock:

Out Of Stock

Model:

sg1381