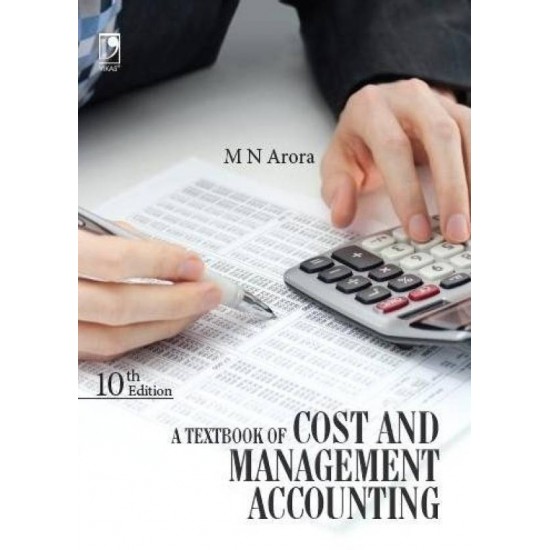 -52 % Out Of Stock
A TextBook of Cost and Management Accounting by Mn Arora
A Textbook of Cost and Management Accounting provides the students with thorough grounding in cost concepts, cost behaviour and methods, and techniques of cost and management accounting with an understanding of the uses and limitations of cost and financial data for managerial operations. The text of the subject matter has been presented in a student-friendly, simple and intelligible manner. Every discussion involving conceptual complexity is immediately illustrated by a numerical example. In addition, the book contains a liberal sprinkling of charts and diagrams so as to make the subject easily understandable and highlight its finer points. The subject matter has been organized on 'first things first' basis for its logical presentation that sustains interest. The approach of the book is examination oriented. Thus, a good number of problems and solutions have been included in its chapters. Theoretical and numerical questions have been mostly selected from various examinations. Objective type questions have been given to serve as self test by students. This is an ideal book for self study.
New In The Second Edition
All chapters thoroughly revised
Latest information on Cost Accounting Standards (CAS) issued by the Institute of Cost Accountants of India (ICAI)
Chapter on 'Miscellaneous Topics' made more contemporary by including some new sub-topics, and thus re-named 'Advanced Cost Management Techniques'
Revision and augmentation of practical problems
Anout the Author
M N Arora is Associate Professor in Hans Raj College, University of Delhi. He studied BCom Hons and MCom in Shri Ram College of Commerce and was a position holder in Delhi University. He is also a Fellow Member of the Institute of Cost and Works Accountants of India. He has more than four decades of experience of teaching Cost Accounting and Management Accounting in various courses in Delhi University and other professional courses like BCom, MCom, MIB, MHROD, MBA, CA, CS, etc. He has authored popular textbooks which have been widely prescribed by UGC, ICWAI, ICSI, Delhi University, Bangalore University and many other universities. He was a Special Invitee in the meetings of the Cost Accounting Standards Board of The Institute of Cost and Works Accountants of India for finalization of draft Cost Accounting Standards.
Table of Contents
1. Overview of Cost Accounting
2. Material Cost
3. Employee cost (Labour Cost)
4. Overhead Cost
5. Output or Unit Costing (Cost Sheet)
6. Job and Batch Costing
7. Contract Costing
8. Process Costing
9. Joint Products and By-Products
10. Operating Costing (Service Costing)
11. Non-Integrated and Integrated Accounts
12. Reconciliation of Cost and Financial Accounts
13. Management Accounting—Nature and Scope
14. Financial Statement Analysis
15. Funds Flow Statement
16. Cash Flow Statement
17. Marginal (Variable) Costing and Cost-Volume-Profit Analysis
18. Budgeting and Budgetary Control
19. Standard Costing and Variance Analysis
20. Tactical decision making
21. Responsibility Accounting and Transfer Pricing
22. Advanced Cost Management Techniques
Books Information
Author Name
MN Arora
Edition
10th
Condition of Book
Used
Stock:

Out Of Stock

Model:

sga1072