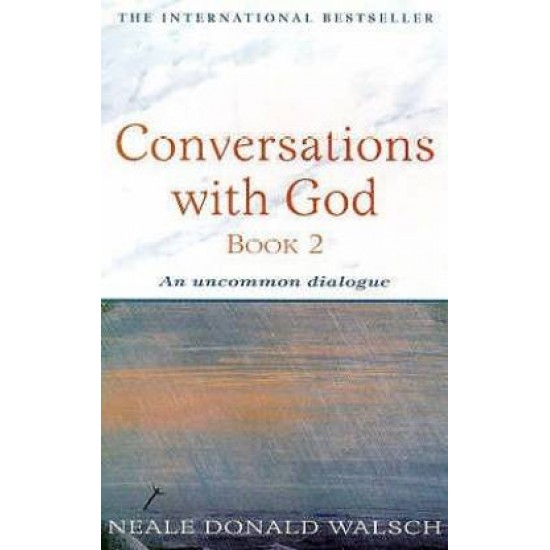 -90 % Out Of Stock
Conversations with God - Book 2 by Walsch Neale Donald
In this second part of the bestselling trilogy, Neale Donald Walsch passes on the answers he found while he sat down to ask God a bunch of tough questions. Conversations With God Book 2 is a sensible brew of spiritual matters and global issues.
Summary Of The Book
It was during an extremely difficult point in life that Neale Donald Walsch felt like writing God a letter. And, as he put his pen on paper that day, he realized he was not only writing down his questions, but also God's answers to them, which he heard in the form of a dialogue with the divine presence. Thus, he produced the phenomenal spiritual handbook and the first installment of the trilogy called Conversations With God. The first part mostly dealt with personal spiritual problems pertaining to one's quest for truth, relationships and prosperity.
This second part though, is quite different in its scope and content. Keeping in mind larger issues and the greater good of mankind, this time around, Walsch asks questions on global concerns like peace, politics and education, while his God provides clearly understandable answers, yet again. The book hosts some substantial inquiries on existential theories, putting across the significant point of non-duality or indivisible divinity. All this wisdom is intended to help readers live their lives and still be true to their spirituality and to themselves.
Conversations With God Book 2 poses some serious questions about social and economical evolution that the human race is striving to achieve. The respective answers speak encouragingly of these progressive changes and suggest acceptable ways to build a more sustainable and functional world for all of God's children. Covering even the intriguing aspects of space and time, this work passes on the strong message that each one of us is equipped to have our own conversations with the divine being, as long as we open ourselves to the possibility.
About Neale Donald Walsch
Neale Donald Walsch is an American writer.
Friendship With God, Communion With God, Tomorrow's God: Our Greatest Spiritual Challenge, The New Revelations, and Happier Than God: Turn Ordinary Life into an Extraordinary Experience are a few of his other books.
Walsch was born in the year 1943 in Wisconsin, and was raised in a Roman Catholic environment that nurtured his spiritual quest. He worked at different jobs in marketing, public relations, and media before he became a full-time writer. He was a Program Director at a radio station and also the managing editor of a newspaper during these years. He rose to instant fame with his first book Conversations With God becoming a New York Times bestseller and featuring on the list for a record 135 weeks. He has ever since been writing spiritual bestsellers and speaking at seminars the world over. His books have collectively sold about 7 million copies in over 30 languages.
Books Information
Author Name
Walsch Neale Donald
Condition of Book
Used
Stock:

Out Of Stock

Model:

sga16766