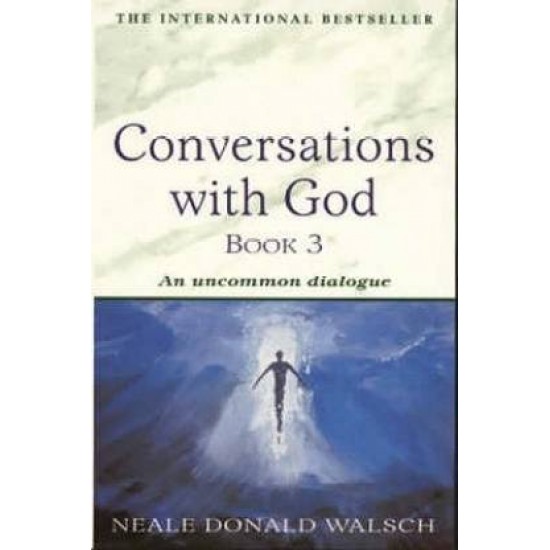 -60 % Out Of Stock
Conversations with God - Book 3 by Donald Walsch Neale
Conversations With God Book Three takes us on a journey of questioning and seeking for answers as we delve into the highest order of universal truth, and discover the opportunities and challenges of the soul.
Summary Of The Book
The Conversations With God series came to be written as a result of the author's experiences in trying to communicate with God during a low point in his life. When Neale Donald Walsch decided to write an angry letter to God about why his life wasn't working out, he did not expect God to give him a response. After he wrote down the questions, he heard a voice coming from over his right shoulder that asked him if he really wanted the answer to all these questions or if he was just venting. Walsch turned around but he could not find anyone.
He then began writing down the answers to his questions, which had by then started filling his mind. These writings formed the basis of the Conversations With God books that contain life changing answers that are sure to change the readers as well as the way they view other beings. As with the other books in the series, Conversations With God Book Three is written in the form of a dialogue between Walsch and God, in which he questions God about various things related to life and God answers him.
The third serving of this series takes readers deeper in the powerful and inspirational dialogue as they enter into an adventurous exploration of life, gain a better understanding of the universe, and also develop a fuller personal relationship with God. Conversations With God Book Three moves from personal issues to universal truths which are applicable to all levels of existence, from the microscopic perspective of life to the macrocosmic vision. Some of the questions that this book explores include the profound questions of our time such as what happens when we die, what is time, and whether we are alone in the universe.
About Neale Donald Walsch
Neale Donald Walsch is a popular inspirational author, actor, speaker and screenwriter.
His other books include The Storm Before The Calm, The Only Thing That Matters, and Friendship With God: An Uncommon Dialogue.
Walsch was born in 1943 in Milwaukee in Wisconsin. He was raised as a Roman Catholic and he engaged in informal study of comparative theology for many years. Walsch worked as a program director at a radio station and also worked as a managing editor for a newspaper, and in public relations and marketing. He began writing after a series of crushing blows that left him virtually homeless, unemployed, and lonely following the breakup of his marriage. This is when he began writing Conversations With God. The first book in the series was published in 1995 and it instantly became an international bestseller. Since then, he has published 28 books which have been translated into 37 languages. Walsch and his wife Em Claire currently live in southern Oregon.
Books Information
Author Name
Donald Walsch Neale
Condition of Book
Used
Stock:

Out Of Stock

Model:

sga16768