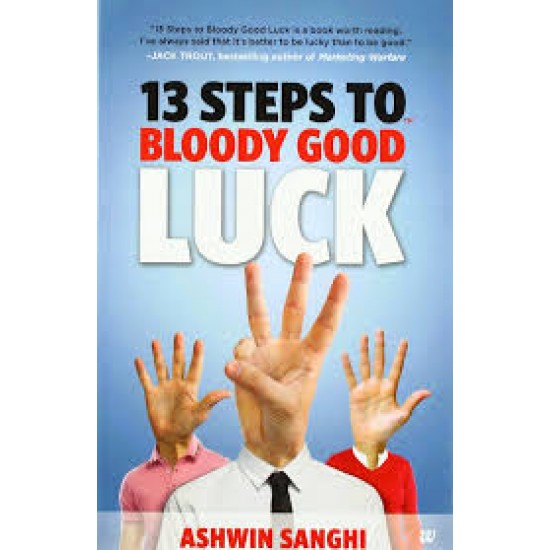 -60 % Out Of Stock
13 Steps to Bloody Good Luck by Sanghi Ashwin
Ashwin Sanghi reveals a surefire way to improve your life with The 13 Steps to Bloody Good Luck.
Summary of the Book
Life isn't always easy. There are people who seem to drive through it with hard work and talent. There are others who just fall by the wayside. Then there are those who seem to find luck wherever they go. They seem to have some mysterious way of attracting luck, empowering them in all that they do. But is it possible to attract luck? Is there some way of training ourselves to become lucky? In this book, Ashwin Sanghi reveals that luck isn't a fickle mistress always on the run. She's well within reach, if you know where to look. He brings together several anecdotes and narratives incorporating personal experiences and vignettes which show readers how to tap into this mysterious fountain of luck. He gives readers a brand new image of what it means to be lucky and shows them how to become successful by finding luck no matter what they do. If luck has seemed to be in short supply in your life, this is the book for you!
About Ashwin Sanghi
Ashwin Sanghi is a bestselling Indian writer. He is known for his books: The Rozabal Line, Chanakya's Chant and The Krishna Key. He has also co-written Private India with James Patterson.
Sanghi received the Vodafone-Crossword Popular Choice Award and he was included in Forbes' Celebrity India list. A student of the Cathedral & John Connon school, Mumbai and St. Xavier's college, Mumbai, Sanghi completed his postgraduate education at Yale. He is currently based in Mumbai, where he lives with his family.
Books Information
Author Name
Sanghi Ashwin
Condition of Book
Used
Stock:

Out Of Stock

Model:

sga329