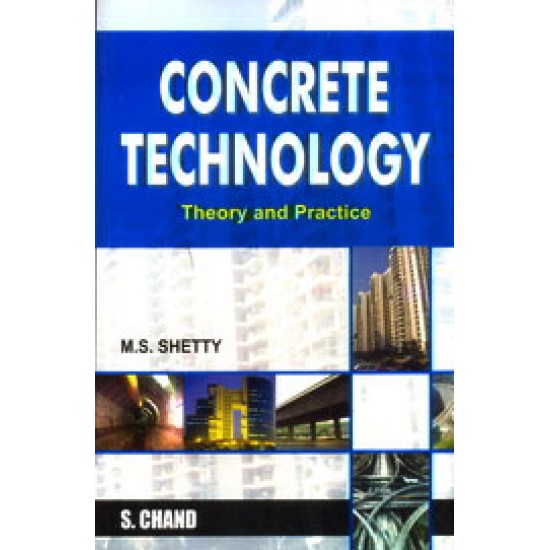 Out Of Stock
Concrete Technology Theory and Practice by M.S Shetty
Concrete Technology: Theory And Practice is a comprehensive guide on concrete, one that is used by students, architects and practicing and consulting engineers alike.
Summary Of The Book
Concrete Technology: Theory and Practice was first published in 1982, when it was mentioned in the book that India was producing 22 million tons of cement. In 2004, this amount became 120 million tons, and today, India is second only to China in the production of cement.
These statistics are emphasised, as well as the need to understand concrete and its workings, in Concrete Technology: Theory and Practice. The seventh edition has taken into account the changes that have been occurring in the constantly dynamic and still rather nascent industry of concrete.
Chemical admixtures have become common practice, from contractors in urban areas to rural villages. Different admixtures that go into the making of high-performance concrete, like PC admixtures as well as mineral admixtures are covered extensively in Concrete Technology: Theory and Practice.
With the increase in infrastructural projects in India involving bridges, roads and flyovers, it has become necessary to adopt mass concreting practices. These techniques are covered elaborately in this book. Ready-mixed concrete, and its transport, pumping and placement have also been discussed at length.
Recently, the code of practice for plain and reinforced concrete introduced IS 456:2000, a revision which rendered the previous guidelines in concrete mix design outdated. This revision has also been taken into account in Concrete Technology: Theory and Practice, along with the most recent durability tests such as Water Penetration Tests and Rapid Chloride Permeability Tests, according to the ASTM and DIN standards.
Other topics such as creep and shrinkage in concrete, the use of water, SCC or Self Compacting Concrete, fresh concrete and the strength of concrete are discussed in this book.
About M. S. Shetty
Professor M. S. Shetty is a retired civil engineer, who has over 50 years of professional experience, having worked as a site engineer, researcher, professor, consultant and post-graduate guide.
After retirement, he has conducted over a hundred training programs on the different aspects of Concrete Technology. These programs have been attended by site engineers from large construction companies as well as private contractors and employees from the central and state governments departments. He was previously the Vice President of Indian Concrete Institute.
Books Information
Author Name
M.S Shetty
Condition of Book
Used
Stock:

Out Of Stock

Model:

sg722