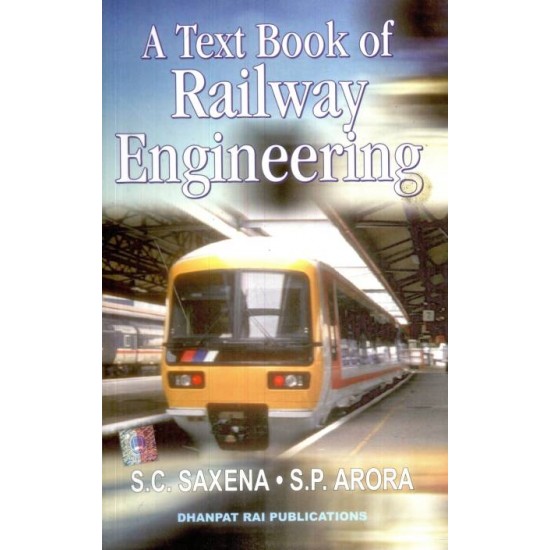 Out Of Stock
A Textbook of Railway Engineering S.C Saxena
A Textbook Of Railway Engineering covers every aspect of the subject for students of railway engineering.
Summary Of The Book
Railway engineering is a specialized branch of transportation engineering, covering the planning, design, construction and maintenance of railway infrastructure and transportation systems. In India, railway engineering is a popular career choice, with the country's vast network of railways.
Railways are still a popular form of transportation in the country, carrying millions of people through the length and breadth of the country each year. Indian Railways is considered to be the ninth largest commercial employer in the world, with more than 1.4 million people working for it.
So, Railway Engineering is a discipline that can open up numerous job opportunities in India. The field covers so many different facets of engineering including civil, mechanical, electrical and computer engineering. A Textbook Of Railway Engineering covers both, the technical and administrative aspects of railway systems. The book is divided into three sections, each focusing on one aspect of the field in detail.
The book begins by covering the fundamental concepts. Thus, the first section focuses on Transportation and Engineering. It covers topics like Railway Track, Track Alignment, Signaling and Control Systems, Track Drainage, and Underground Railways and Tunnelling. The second section covers Modernization of Railway Tracks and Future Trends and the final section discusses the administrative aspects.
The book explains the various aspects of transportation engineering and the associated terminologies. It covers all the traditional aspects, new technologies and emerging trends in railway engineering. Besides covering the technical facets of railway transportation systems, A Textbook Of Railway Engineering also familiarizes students with the management aspects of railways. This text is a well-rounded resource that introduces students to all the different facets of railway systems.
About The Authors
S. P. Arora has also written The Text Book of Building Construction.
S. C. Saxena is also the author of Principles & Practice Of Management, and Business Administration And Management.
Books Information
Author Name
S.C Saxena
Edition
2012
Condition of Book
Used
Stock:

Out Of Stock

Model:

sg718